Livable California: Stepping Up As a Statewide Organization
August 27, 2018
Posted by Susan Kirsch : marinpost – excerpt
PRESS RELEASE: Livable California received unexpected recognition as a statewide organization from an unlikely source this week: Senator Scott Wiener.
On Thursday afternoon, August 23, Wiener tweeted, "A new statewide anti-housing group called "Livable California" has formed. Its primary goal is to prevent the State from setting housing standards & thus let cities block new housing. Let's keep organizing for *more* housing & a bright CA housing future."
Like so many other things, Wiener got it wrong about Livable California.
He uses an emotional, inflammatory statement to discredit Livable California's reasonable efforts to provide housing within the framework of sound land-use planning. Far from being anti-housing, Livable California supports local agencies working collaboratively with regional and state agencies. We reject Wiener's aggressive and antagonistic efforts that put lawmakers at odds with residents and cities.
The Senator's tweet of alarm comes as Livable CA is flexing its legislative know-how with support from its own lobbyist, and help from the Coalition to Preserve LA.
On Friday, thanks to MVM Strategy Group, Livable California visited staff of a dozen Assembly members to discuss reasons to oppose SB 828…
Livable CA is rapidly expanding the network of elected officials, candidates, and volunteer community leaders, who support housing development within a framework of sound land-use planning, and are finding like-minded colleagues around Livable California's non-partisan table.
At a recent Livable California meeting, five candidates running for public office in November, attended.
Eva I-hua Chao is a BART Board candidate, District 2, who opposes AB 2923 that takes land use planning away from cities like Berkeley and puts it into the hands of BART.
Lou Ann Bassan is running for a seat on the San Francisco Board of Supervisors, District 4, and writes, "Turning neighborhoods into Manhattan is not a solution."
T. Keith Gurnee, a mayoral candidate, won the award for driving the greatest distance, traveling from San Luis Obispo to San Francisco to learn about the growing coalition of leaders opposed to misguided laws that benefit developers and corporations at the expense of long-established, well-run communities with a perspective of stewardship.
Cathy Jenkins is a candidate for the Orinda City Council.
Julie Testa is a candidate for the Pleasanton City Council, running on the theme, "Standing for Residents, Not Developments."
In addition, frequent Livable CA attendee Liang Chao, founder of Better Cupertino, is a candidate for City Council as a "pro-resident council member."…
As the 2018 legislative session winds down, please make two calls NOW, before you go on to the next email.
The Assembly will vote on SB 828 on Monday or Tuesday and it will be voted on in the Senate by the end of the week.
If you live in Marin, please call Assemblyman Marc Levine at 916-319-2010 and call Senator Mike McGuire at 916-651-4002 with a brief message. Urge them to stand in support of collaborative local/state planning and vote NO on the top-down, autocratic mandate of SB 828. If you live outside Marin, please call your Assembly member and Senator to urge a NO vote on SB 828.
---
Susan Kirsch is Chair of Livable California and former candidate for the Marin Board of Supervisors.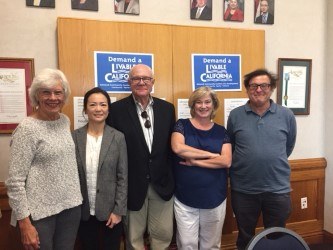 Livable CA meetings provide an opportunity to network with like-minded colleagues. Susan Kirsch, Livable CA; Eva I-hua Chao, BART Board candidate; T. Keith Gurnee, mayoral candidate, San Luis Obispo; Julie Testa, City Council Candidate, Pleasanton; Steve Scharf, City Council member, Cupertino. Not shown: Lou Ann Bassan, SF Board of Supervisors, District 4; Cathy Jenkins, City Council Candidate, Orinda; and Liang Chao, City Council, Cupertino.